Prices last updated at 21:05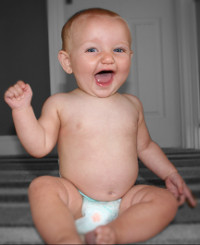 Hello and welcome to Bum Deal, the home of finding the best deals for nappies online.
This is my niece Jessica. Her parents - like so many - spend hours each week trying to find the best deal on nappies.
As nappies form such a large part of the costs of bringing up a child it seems sensible to me to try and do it thriftily.
There are so many special offers and bogofs these days that it has become increasingly difficult to judge what is a bargain.
So, this site tries to combat this problem by systematically crawling through all the major retailers and working out what is best.



Simply pick the brand and size of nappy that you're looking for and we'll let you know where the bargains are.
The cheapest nappies we've found are 9p each, compared to the most expensive at 35p.

Across a week that's a saving of £12.74.
Nappy

Description

Cost

Retailer
44
(size 4)
Pampers Baby Dry Size 4 Essential Pack 44 Nappies



**Buy 1 Get 1 Free Cheapest Product Free**



(9p each)
£8.00


(2 packs)



Grab Nappies
25
(size 4)
Pampers Baby Dry Size 4 (Maxi) Carry Pack 25 Nappies

(10p each)
£2.50


Grab Nappies
39
(size 4)
Pampers Active Fit Size 4 Essential Pack 39 Nappies



**Buy 1 Get 1 Free Cheapest Product Free**



(10p each)
£8.00


(2 packs)



Grab Nappies
86
(size 4)
Pampers Baby Dry Size 4 Jumbo+ Pack 86 Nappies



**Any 2 for £18.00**



(10p each)
£18.00


(2 packs)



Grab Nappies
86
(size 4)
Pampers Baby Dry Size 4 Nappies Jumbo Pack 86PK



**2 FOR £18.00**



(10p each)
£18.00


(2 packs)



Grab Nappies
62
(size 4)
Pampers Baby-Dry Size 4 Maxi Large Pack 62 Nappies

(10p each)
£6.49


Grab Nappies
23
(size 4)
Pampers Baby-Dry Pants Size 4 Carry Pack 23 Nappies

(11p each)
£2.50


Grab Nappies
86
(size 4)
Pampers Baby Dry Size 4 Jumbo+ 86 Nappies

(11p each)
£9.50


Grab Nappies
44
(size 4)
Pampers Baby Dry Size 4 Essential Pack 44 Nappies



**2 for £10 on selected Pampers Nappies and Pants**



(11p each)
£10.00


(2 packs)



Grab Nappies
120
(size 4)
Pampers Baby Dry Nappies Size 4 Giga Pack 120 per pack



**Buy any 2 for £28**



(12p each)
£28.00


(2 packs)



Grab Nappies
74
(size 4)
Pampers Simply Dry Size 4 Nappies Jumbo Pack 74 per pack

(12p each)
£8.77


Grab Nappies
44
(size 4)
Pampers Baby Dry 4 Essential 45 Nappies (44s)



**Add 3 for the price of 2**



(12p each)
£16.00


(3 packs)



Grab Nappies
44
(size 4)
Pampers Baby Dry Maxi Size 4 Nappies 44 Pack- (15-40 lbs/7-18 kg)

(13p each)
£5.50


Grab Nappies
40
(size 4)
Pampers Baby-Dry Pants Size 4 Essential Pack 40 Nappies



**2 for £10 on selected Pampers Nappies and Pants**



(13p each)
£10.00


(2 packs)



Grab Nappies
72
(size 4)
Pampers Baby-Dry Pants Size 4 Nappies Jumbo Box 72PK



**2 FOR £18.00**



(13p each)
£18.00


(2 packs)



Grab Nappies
39
(size 4)
Pampers Premium Protection Size 4 Essential Pack 39 Nappies



**2 for £10 on selected Pampers Nappies and Pants**



(13p each)
£10.00


(2 packs)



Grab Nappies
78
(size 4)
Pampers Baby Dry Size 4 (Maxi) Jumbo Plus Pack 78 Nappies



**2 for £20 on selected Pampers Jumbo Plus Pack**



(13p each)
£20.00


(2 packs)



Grab Nappies
74
(size 4)
Pampers Simply Dry Size 4 Jumbo Pack 74 Nappies

(13p each)
£9.50


Grab Nappies
74
(size 4)
Pampers Simply Dry Nappies Size 4 Jumbo Pack 74 per pack

(13p each)
£9.50


Grab Nappies
54
(size 4)
Pampers Premium Protection Size 4 Large Pack 54 Nappies 54PK

(13p each)
£7.00


Grab Nappies
54
(size 4)
Pampers Premium Protection Size 4 Jumbo Pack X54



**Any 2 for £14.00**



(13p each)
£14.00


(2 packs)



Grab Nappies
72
(size 4)
Pampers Baby Dry Pants Size 4 Jumbo 72 Pants

(13p each)
£9.50


Grab Nappies
37
(size 4)
Pampers Simply Dry Size 4 Maxi Nappies (7-18kg/15-40 lbs) - 37 Nappies

(13p each)
£4.99


Grab Nappies
37
(size 4)
Pampers Simply Dry Size 4 Maxi Essential Pack 37 Nappies

(13p each)
£4.99


Grab Nappies
74
(size 4)
Pampers Simply Dry Size 4 Maxi Nappies (7-18kg/15-40 lbs) - 74 Nappies

(14p each)
£10.00


Grab Nappies
44
(size 4)
Pampers Baby Dry nappies Size 4 Essential pack 44 per pack



**Buy any 2 for £12**



(14p each)
£12.00


(2 packs)



Grab Nappies
39
(size 4)
Pampers Premium Protection 4 8-16kg (39s)



**Add 3 for the price of 2**



(14p each)
£16.00


(3 packs)



Grab Nappies
39
(size 4)
Pampers active fit maxi 4 7-18kg (39s)



**Add 3 for the price of 2**



(14p each)
£16.00


(3 packs)



Grab Nappies
54
(size 4)
Pampers Premium Protection Size 4 Jumbo Pack 54 Nappies



**2 for £15 on Pampers New Baby**



(14p each)
£15.00


(2 packs)



Grab Nappies
168
(size 4)
Pampers Premium Protection Active Fit Nappies Size 4 Monthly Saving Pack 168 per pack



**Buy any 2 for £47**



(14p each)
£47.00


(2 packs)



Grab Nappies
64
(size 4)
Pampers Active Fit Size 4 Jumbo+ Pack 64 Nappies



**Any 2 for £18.00**



(14p each)
£18.00


(2 packs)



Grab Nappies
64
(size 4)
Pampers Active Fit Size 4 (Maxi) Nappies Jumbo Pack 64PK



**2 FOR £18.00**



(14p each)
£18.00


(2 packs)



Grab Nappies
24
(size 4)
Pampers Simply Dry 4 Carry 24

(15p each)
£3.49


Grab Nappies
64
(size 4)
Pampers Active Fit Size 4 Jumbo 64 Nappies

(15p each)
£9.50


Grab Nappies
40
(size 4)
Pampers Baby Dry Pants Size 4 Essential Pack 40 per pack



**Buy any 2 for £12**



(15p each)
£12.00


(2 packs)



Grab Nappies
37
(size 4)
Pampers Simply Dry Nappies Size 4 Essential Pack 37 per pack

(15p each)
£5.60


Grab Nappies
168
(size 4)
Pampers Premium Protection Active Fit Nappies Size 4 Monthly Saving Pack 168 per pack

(15p each)
£26.00


Grab Nappies
64
(size 4)
Pampers Premium Protection Active Fit Size 4 Jumbo Plus Pack 64 Nappies



**2 for £20 on selected Pampers Jumbo Plus Pack**



(16p each)
£20.00


(2 packs)



Grab Nappies
54
(size 4)
Pampers Active Fit Size 4 Maxi Nappies (7-18 kg / 15-40lbs) - 54 Pack

(16p each)
£8.50


Grab Nappies
54
(size 4)
Pampers New Baby Premium Protection Nappies Size 4 Jumbo Pack 54 per pack



**Buy any 2 for £17**



(16p each)
£17.00


(2 packs)



Grab Nappies
120
(size 4)
Pampers Baby Dry Nappies Size 4 Giga Pack 120 per pack

(16p each)
£19.00


Grab Nappies
44
(size 4)
Pampers Baby Dry Size 4 Essential Pack 44 Nappies

(16p each)
£7.00


Grab Nappies
86
(size 4)
Pampers Baby Dry Size 4 Jumbo+ Pack 86 Nappies

(16p each)
£14.00


Grab Nappies
86
(size 4)
Pampers Baby Dry Size 4 Nappies Jumbo Pack 86PK

(16p each)
£14.00


Grab Nappies
39
(size 4)
Pampers Active Fit Maxi Size 4 Nappies 39 Pack (7-18kg/15-40lbs)

(17p each)
£6.49


Grab Nappies
39
(size 4)
Pampers Active Fit Size 4 Maxi Nappies (7-18 kg / 15-40lbs) - 39 Pack

(17p each)
£6.49


Grab Nappies
24
(size 4)
Pampers Premium Protection Size 4 Carry Pack 24 Nappies



**2 for £8 on Pampers New Baby and New Baby Sensitive Sizes 3-5**



(17p each)
£8.00


(2 packs)



Grab Nappies
39
(size 4)
Pampers Active Fit nappies Size 4 Essential pack 39 per pack



**Buy any 2 for £13**



(17p each)
£13.00


(2 packs)



Grab Nappies
174
(size 4)
Pampers Baby-Dry Nappies Size 4 Monthly Pack - 174 Nappies

(17p each)
£30.00


Grab Nappies
40
(size 4)
Pampers Baby Dry Size 4 Essential Pack 40 Pants

(18p each)
£7.00


Grab Nappies
94
(size 4)
Pampers Baby-Dry Pants Size 4 Monthly Saving Pack 94 Nappies

(18p each)
£16.50


Grab Nappies
39
(size 4)
Pampers Active Fit Size 4 Economy Pack 39 Nappies

(18p each)
£7.00


Grab Nappies
39
(size 4)
Pampers Premium Protection Nappy Size 4 39 Nappies

(18p each)
£7.00


Grab Nappies
78
(size 4)
Pampers Baby Dry Maxi Size 4 Nappies 78 Pack- (15-40lbs/7-18kg)

(18p each)
£14.00


Grab Nappies
78
(size 4)
Pampers Baby Dry Size 4 (Maxi) Jumbo Plus Pack 78 Nappies

(18p each)
£14.00


Grab Nappies
25
(size 4)
Pampers Baby-Dry Size 4 Maxi Carry Pack 25 Nappies

(18p each)
£4.50


Grab Nappies
72
(size 4)
Pampers Baby-Dry Pants Size 4 Jumbo Box 72 Nappies

(18p each)
£13.00


Grab Nappies
44
(size 4)
Pampers Baby Dry Size 4 Essential Pack 44 Nappies

(18p each)
£7.99


Grab Nappies
44
(size 4)
Pampers Baby Dry Size 4 Nappies Economy Packs 44 per pack

(18p each)
£8.00


Grab Nappies
44
(size 4)
Pampers Baby Dry nappies Size 4 Essential pack 44 per pack

(18p each)
£8.00


Grab Nappies
44
(size 4)
Pampers Baby Dry 4 Essential 45 Nappies (44s)

(18p each)
£8.00


Grab Nappies
24
(size 4)
Pampers Premium Protection Active Fit Size 4 Carry Pack - 24 Nappies

(19p each)
£4.50


Grab Nappies
24
(size 4)
Pampers Active Fit Size 4 Carry Pack 24 Nappies

(19p each)
£4.50


Grab Nappies
54
(size 4)
Pampers New Baby Premium Protection Nappies Size 4 Jumbo Pack 54 per pack

(19p each)
£10.50


Grab Nappies
72
(size 4)
Pampers Baby-Dry Pants Size 4 Nappies Jumbo Box 72PK

(19p each)
£14.00


Grab Nappies
168
(size 4)
Pampers Premium Protection Active Fit Size 4 Monthly Saving Pack - 168 Nappies

(20p each)
£33.00


Grab Nappies
76
(size 4)
Pampers Active Fit Size 4 Maxi Nappies (7-18 kg / 15-40lbs) - 76 Pack

(20p each)
£15.00


Grab Nappies
40
(size 4)
Pampers Size 4 Maxi Baby Dry Pants (8-15kg/18-33lbs) - 40 Nappies

(20p each)
£7.99


Grab Nappies
40
(size 4)
Pampers Baby-Dry Pants Size 4 Essential Pack 40 Nappies

(20p each)
£7.99


Grab Nappies
40
(size 4)
Pampers Baby-Dry Pants 4 8-15kg (40s)

(20p each)
£8.00


Grab Nappies
40
(size 4)
Pampers Baby-Dry Pants Size 4 Essential Pack Nappies

(20p each)
£8.00


Grab Nappies
40
(size 4)
Pampers Baby Dry Pants Size 4 Essential Pack 40 per pack

(20p each)
£8.00


Grab Nappies
64
(size 4)
Pampers Premium Protection Active Fit Size 4 Jumbo Plus Pack 64 Nappies

(20p each)
£13.00


Grab Nappies
39
(size 4)
Pampers Premium Protection Size 4 Essential Pack 39 Nappies

(20p each)
£7.99


Grab Nappies
39
(size 4)
Pampers active fit maxi 4 7-18kg (39s)

(21p each)
£8.00


Grab Nappies
39
(size 4)
Pampers New Baby Nappies Premium Protection Size 4 Essential Pack 39 per pack

(21p each)
£8.00


Grab Nappies
39
(size 4)
Pampers Active Fit nappies Size 4 Essential pack 39 per pack

(21p each)
£8.00


Grab Nappies
39
(size 4)
Pampers Premium Protection 4 8-16kg (39s)

(21p each)
£8.00


Grab Nappies
24
(size 4)
Pampers Premium Protection Size 4 Carry Pack 24 Nappies

(21p each)
£4.99


Grab Nappies
24
(size 4)
Pampers New Baby Premium Size 4 Carry Pack 24 Nappies

(21p each)
£4.99


Grab Nappies
24
(size 4)
Pampers New Baby Nappies Premium Protection Size 4 Carry Pack 24 per pack

(21p each)
£5.00


Grab Nappies
24
(size 4)
Pampers Premium Protection Size 4 Nappies Carry Pack 24PK

(21p each)
£5.00


Grab Nappies
24
(size 4)
Pampers Premium Protection 4 8-16kg (24s)

(21p each)
£5.00


Grab Nappies
23
(size 4)
Pampers Baby Dry Pants Size 4 Carry Pack 23 per pack

(22p each)
£5.00


Grab Nappies
64
(size 4)
Pampers Active Fit Size 4 (Maxi) Nappies Jumbo Pack 64PK

(22p each)
£14.00


Grab Nappies
45
(size 4)
Pampers Baby Dry Essential Pack Maxi x45

(22p each)
£9.98


Grab Nappies
54
(size 4)
Pampers Premium Protection Size 4 Jumbo Pack 54 Nappies

(22p each)
£11.99


Grab Nappies
44
(size 4)
Pampers Baby-Dry Size 4 Maxi Essential Pack 44 Nappies

(23p each)
£9.99


Grab Nappies
50
(size 4)
Pampers Easy Up Pants Size 4 Large Pack - 50 Pants

(24p each)
£11.99


Grab Nappies
39
(size 4)
Pampers Active Fit Size 4 Maxi Essential Pack 39 Nappies

(26p each)
£9.99


Grab Nappies
46
(size 4)
Pampers Simply Dry Nappies Size 4 Large Pack - 46 Nappies

(26p each)
£11.99


Grab Nappies
24
(size 4)
Pampers Easy Ups Carry Pack Maxi x24

(27p each)
£6.49


Grab Nappies
36
(size 4)
Pampers Active Fit Ep Size 4 M

(28p each)
£9.98


Grab Nappies
23
(size 4)
Pampers Baby-Dry Pants Size 4 Carry Pack 23 Nappies

(35p each)
£7.99


Grab Nappies